Just Love – a painted object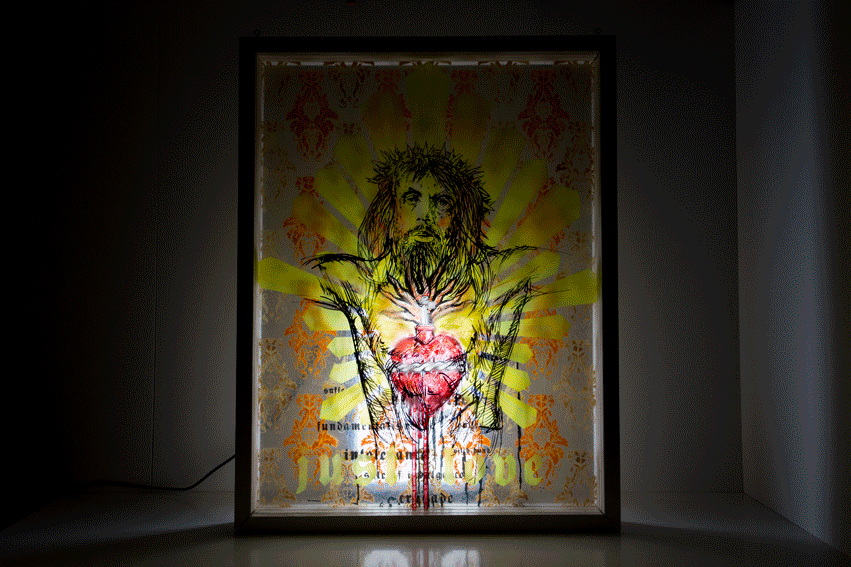 Religiöses Statement eines Konfessionslosen: Bewunderung eines weisen Menschen, dessen Ideen seiner Zeit weit voraus waren.
"Just Love" setzt sich mit der Essenz der christlichen Lehre auseinander und mit deren seit fast zweitausend Jahren andauernden Verstümmelung durch die Institution Kirche.
Visuell referenziert "Just Love" die prachtvolle Ikonenmalerei und die hohe Kunst der Bleiglasfenster in Kirchen, jedoch mit den Mitteln und Techniken der heutigen Urban Art: Marker und Stencil. Dementsprechend "grob skizziert" und "unfertig" zeigen sich die Motive auf den drei Ebenen.
Rein äusserlich hat das Kunstwerk nichts Prachtvolles an sich. Es besteht aus mehreren weiß gestrichenen, hölzernen Rahmen und aus drei dazwischen liegenden Kunststoffschichten mit aufgemalten Motiven. Alles ist vom Künstler handgefertigt, ohne professionellen, handwerklichen Anspruch, ein Hinweis auf die einfache Herkunft Jesus' und die simple Essenz seiner Lehre. Folgerichtig besteht das Painted Object aus einfachsten Baumarkt-Materialien: Fichtenholz für die Rahmenkonstruktion und dicke Kunststoffschichten als Träger für die Farbe/Motive. Dazu ein UV-Fluter, um die mittlere Ebene des Objekts in Dunkelheit zu beleuchten.
Entscheidend für die Wirkung von "Just Love" ist die Installation bzw. die Positionierung im Raum. Es ist nicht als Wandobjekt konzipiert, sondern sollte frei im Raum platziert sein, hängend oder etwas erhöht stehend, um die Transparenz der unterschiedlichen Ebenen zu gewährleisten. Das Werk benötigt Licht von beiden Seiten, um seine volle Wirkung zu entfalten.
Die unterschiedlichen Lichtverhältnisse eines Tagesablaufs verändern das Werk und bringen die jeweiligen Botschaften zum Vorschein. So entwickelt sich ein Wechselspiel zwischen der Reinheit der Liebe und den Schandtaten der religiösen Eiferer. Letztere scheinen zunächst quantitativ überlegen zu sein, werden aber trotzdem überstrahlt.
"Just Love" wird altern und die mit UV-aktiver Farbe gemalte Botschaft der Liebe wird allmählich verblassen, eine Parallele zur historischen Entwicklung des Christentums.
A religious statement of an atheist: admiring a wise man whose ideas were before his time.
"Just Love" reflects on a confrontation between the essence of Christian belief and its "mutilation" by the church over the past two thousand years.
It's a visual reference to the magnificent iconic paintings and the high art of stained-glass windows that can be found in churches, realized with tools and techniques of Urban Art: marker and stencil. In consequence the various painted layers look somehow unfinished,  a bit more like raw sketches.
At first sight this piece of art isn't magnificent at all. It consists out of several white wooden frames with layers inbetween that are painted with motifs and patterns. The artist constructed every part of the object by hand, without any professional skills and far from perfection, which is a reference to Jesus' humble origins and the very simple essence of his teachings. Therefore this painted object is built with most simple parts from the local hardware store: a frame of pine wood and thick plastic foil. An ultra-violet lamp is used to light the object at night.
"Just Love" is not meant to be fixed to a wall, it needs some space around to catch light from both sides. A position in the middle of a room is highly recommended, either hanging from the ceiling or mounted on a plinth.
Different lighting conditions of day and night are used to bring out the corresponding messages. That's how an interaction of the purity of love (the essence) and the atrocities of religious zealots starts happening. Love will shine through in the end, despite the latter's vastly outnumber.
"Just Love" will be aging and its message fading away (because it's uv-active paint), a parallel to the historical evolution of Christianity.